Holiday Cottages in Newcastle, County Down, Northern Ireland

Self Catering Holiday Accommodation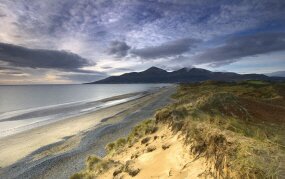 Newcastle, the gateway to the Kingdom of Mourne, has a proud and colourful history stretching back over 400 years. Immortalised in the words of the Percy French song, "Where the Mountains of Mourne Sweep Down to the Sea" it has grown during the past four centuries from being an insignificant fishing village to its position today as the premier tourist resort in Northern Ireland.
The key factor in Newcastle's popularity has always been its unique location. Bordered on one side by the calm waters of Dundrum Bay and on the other side by the sweeping panorama of the Mourne Mountains.


Heather Cottage : Newcastle Country Cottages : Newcastle : Prices £700 - 580
Heather Cottage, brand new for summer 2011, offers you outstanding accommodation that will have you coming back for more. Traditional and luxury features in a cosy and peaceful environment. The cottage is located just off the Castlewellan road, 1 mile from Newcastle town centre and beach. Full listing ...


Priest Bridge Cottage : Newcastle : Prices £475 - 325
Originally a mill labourer's cottage, has been extensively but sympathetically renovated and developed to modern standards, providing a cosy rural retreat right on the edge of Tollymore Forest Park. Easy access to the attractions of nearby holiday town Newcastle and the coast. Full listing ...


The Jays : Newcastle : Prices £506 - 385
Modern townhouse in a courtyard setting in the picturesque village of Bryansford. It is ideally placed to enjoy the Mountains of Mourne and Tollymore Forest Park, with their many fine walks, picnic areas and rich diversity of wild life (including the colourful Jay). Tollymore is in easy walking distance from your front door. Full listing ...


Mourne Heights : Newcastle : Prices £390 - 320
Situated in glorious countryside in the beautiful Mournes, with superb views across the sea and Dundrum Bay, yet just 1.5 miles from Newcastle town centre. Located at the end of a lane, Mourne Heights enjoys an elevated position at the foot of the Mournes with views to Dundrum Bay and beyond. Full listing ...


White Gate Lodge : Newcastle : Price £550
In an outstanding location on the perimeter of Tollymore Forest Park with views over the Mourne Mountains. The house is located in beautiful countryside and is furnished to an exceptionally high standard. Tollymore Forest Park is your back garden with lots to explore. Full listing ...


Bearnagh Cottage : Newcastle : Price £620 - 450
Newly built in 2014 and located in the heart of the Mourne Mountains. Situated on a small hill farm with stream and mountain walks on your doorstep. Environmentally friendly systems including solar hot water. Open plan living with sun room to enjoy the surrounding views. Full listing ...