Mourne Heights

- Newcastle - County Down - Northern Ireland
Profile
About
Tariff
Availability
Guestbook
Reviews
Location
Contact Owner
Pay Owner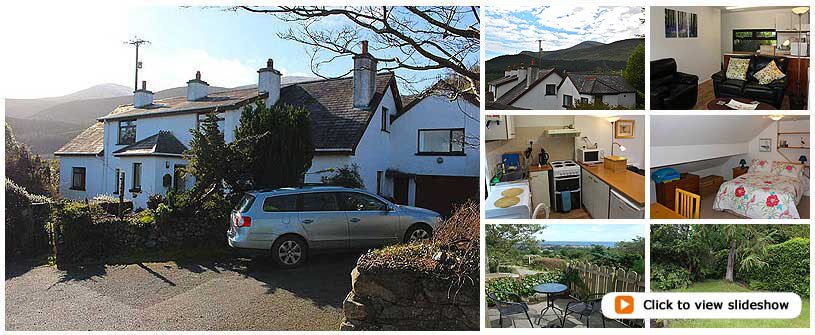 1 bedroom sleeping 2
- double bedroom
alcove off hallway sleeps two children

bathroom: electric shower, basin & toilet
open plan living area
comfortable leather sofa & armchair
superb views over countryside and the sea beyond
tv with digital freesat
wifi internet access available
fully equipped modern kitchen area
electric cooker, microwave, fridge & ice box
washing machine & ironing facilities, outside clothes line
dining table for four
cosy garden and patio with views over countryside and sea
garden furniture & charcoal bbq
convector heaters, electricity included
cot & highchair available on request
welcome pack - bread, milk, spread, tea, coffee, free range eggs
bed linen & towels provided
100% cotton sheets, feather/down pillows option
pets & guide dogs welcome by arrangement
car parking available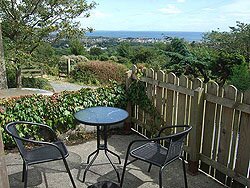 Mourne Heights is situated in glorious countryside in the beautiful Mournes, with superb views across the sea and Dundrum Bay, yet is just 1.5 miles from Newcastle town centre. It is in a very pleasant, elevated position with direct access to the mountains and Tollymore Forest Park. See location tab to view.
Ideal for a relaxing break, with the option of enjoying Newcastle's restaurants and amenities or taking walks in the nearby forests and mountains.
The cosy self-contained accommodation has a spacious living room/kitchen, Freesat TV, double bedroom, alcove with 2 beds, bathroom with shower, washing machine etc.
Outside there is a patio/BBQ area, garden and private parking.
The property is located on the very edge of the Mourne Mountains, with the Ulster Way, Mourne Way and access to Tollymore Forest Park all just metres away. (View the location tab and map to see how close you are to Tollymore Forest Park).
Prices:
| | |
| --- | --- |
| Prices per week unless stated otherwise | £ stg |
| July/August | 350 |
| Easter/Christmas/New Year | 290 |
| Rest of Year | 290 |
| 2 nights weekend + 1 night free (excl Bank Hol) | 150 |
| 3 nights bank holiday weekend | 190 |
| 3 nights/4 nights midweek | 150/200 |
Special Offers
No offers currently available
Availability
See availability tab above
Booking Details

£100 deposit secures booking with balance payable 6 weeks prior to arrival.
- check in 4pm, check out 11am or by prior arrangement
- rental Saturday to Saturday or by special arrangement

What's Included
- linen/towels supplied free of charge
- convector heaters
- electricity included
- welcome pack

What's Not Included
Submitted by owner from cottage guestbook:

Beautiful and well-maintained cottage with amazing hosts. See you next year. (C&K + family, Newtownards)
Super self-catering. Nice people, views and welcome package. Thank you for this week. (V&J, Belgium)
Brilliant, thanks, house very clean. We will be back. (P&C + family, Omagh)
Perfect! Lovely cottage, friendly welcome and helpful owners. We have had a wonderful time. Will recommend it! (M&H, Cheshire)
Have had a really relaxing, lovely time. Great facilities and lovely welcome. Thank you! We will be back. (S&G + family, Bangor)
Great hosts, lovely apartment. Location is fabulous. Will definitely come back. (M&V, Antrim)
Stunning views, warmest of welcomes. Thank you. (J&C, Birmingham)
Lovely cosy cottage, lovely peaceful walks. Great hosts. Would come back. (M&R, Belfast)
In very nice location, lovely holiday break. Very pleased. Nice hosts. Will return. (C&B, Belfast)
Such a beautiful and relaxing location!! Thank you for everything, including the very generous welcome pack. It's been great! (R&D, Lancashire).

Reviews submitted by users of IrishCottagesDown.com:

| | | |
| --- | --- | --- |
|   | Item | Rating |
|   |   |   |
|   | Cleanliness | |
|   | Location | |
|   | Rooms | |
|   | Sleep Quality | |
|   | Service | |
|   | Value | |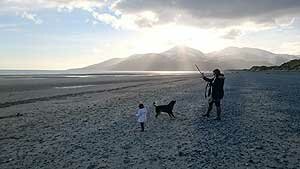 Amazing break review by phill & tash
Perfect location to enjoy the beautiful surrounding mountains and forests with stunning sea views. Brilliant accommodation, lovely helpful hosts, would HIGHLY recommend. Will be going back!
Date of stay: 30.01.15
Travelled With: Family with young children
Would you recommend this accommodation to a friend? Yes


Not displaying correctly?
Click to view
Assistance:
Welcome to the Mourne Mountains. Mourne Heights is behind the wooden gate up the road behind you. The sea can be seen if you move to your left.
Rotating the view is available by the controls just above the + symbol. Clicking on the arrows on the road enables you to move location.
Click the marker (changes to red on rollover) in the top left for map view. Please note the address provided by Google Maps in the top left corner is not always accurate.
Have fun and we hope you enjoy your holiday ...
Contact the owner by phone:
Patricia Gunther
uk
+44 28 0 intl
Website: click here
Property listed here since: November 2012
Like our site?
Please support us by informing owner that you found their dwelling on IrishCottagesDown.com. Thank you!
This Form: The contents of this form will be sent direct by email to the advertiser and will only to be used to enquire about booking this property.
IrishCottagesDown also keeps an archive copy as a back-up for advertisers. You can reference our privacy statement for more information.
Send Deposit/Payment:
Confirmed availability, cost and received a booking reference from the owner?
Fill in your information left to send
deposit / payment to owner ...
For your information:
Payments are handled by the owner and not IrishCottagesDown.com. Any queries or refunds should be addressed to the owner.
Payments over £100 are protected by your credit card company in the very unlikely event a problem should arise. All cottages on IrishCottagesDown are tourist board approved.
Payments are secure and processed by Stripe technology. Stripe works by using a javascript file to communicate your card details without saving any details to a server. It is like a quick chat and it all happens in the blink of an eye. The process is actually more secure than the SSL certificates although we have one of those embedded in this page as well (any queries as to security just email us). Process is also PCI compliant.