Holiday Cottages in Ballynahinch, County Down, Northern Ireland

Self Catering Holiday Accommodation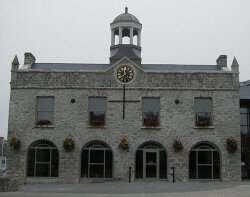 Ballynahinch lies 15 miles south of Belfast and with Newcastle and Downpatrick, is one of the three largest towns of the Down District Council area.
Ballynahinch was founded by Sir George Rawdon in the 1600's and remained in the family's hands until the time of the rebellion of 1798. The Battle of Ballynahinch in 1798 ended the United Irishmen movement which was formed in 1791 with the aim of Irish independence from Great Britain.
The town's market house was built in 1795 by Lord Moira and is currently used as a community centre. An old flax mill and corn mill stand on the outskirts of the town. Facilities in the town include a leisure centre.


Hemp Cottage : Downpatrick/Crossgar : Price £495 - 395
Offers eco holiday living in contemporary accommodation by the river's edge. With a number of features including hemp lime walls and locally sourced wood this dwelling is the perfect choice for those looking for a bit more from their holiday accommodation. Full listing ...


Sunnyside Cottage : Ballynahinch/Crossgar : Prices on request
Renovated in 2008, Sunnyside is fitted out to a high standard with all mod cons making this holiday dwelling the perfect home from home. All bedrooms are ensuite, suiting the most particular requirements. If all this is not enough how about a game of snooker/pool in the games room to make your stay complete? Full listing ...


Brookvale Cottage : Ballynahinch/Crossgar : Price £450 - 375
Beautifully converted barn with a unique blend of natural slate, exposed oak beams, enhanced by a designer shower room which all goes to provide a luxurious feeling to this traditional Irish Cottage. Set in the heart of Co. Down in a peaceful setting with views of open countryside. Full listing ...


The Barn at Pink Cottage : Ballynahinch/Crossgar : Price £300 - 270
A unique opportunity to experience total relaxation. Set in beautiful, tranquil woodland setting. Exposed stone walls, wood burning stove and feature stained glass windows. Bedroom overlooks main living area in loft tucked under the eaves. Ideal for a memorable romantic getaway. Full listing ...