Hemp Cottage

- Downpatrick / Crossgar - County Down - Northern Ireland
Profile
About
Tariff
Availability
Guestbook
Reviews
Video
Location
Contact Owner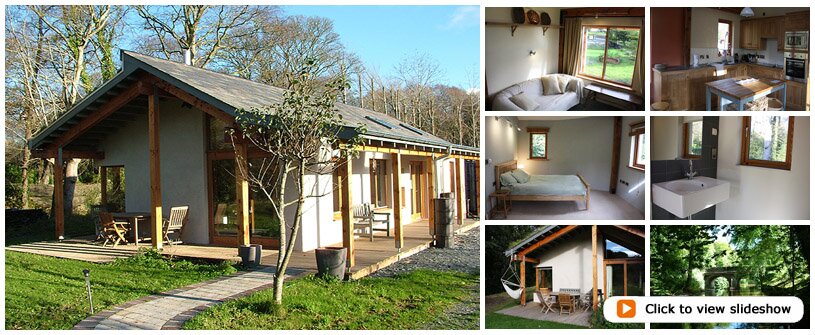 2 bedrooms sleeping up to 4
- ground floor double bedroom
- ground floor bunk bedroom
bedrooms with views over garden & river
fully accessible ground floor wet room adjacent to bedroom
living area with view of orchard and sliding door to veranda
wood burning stove
tv and internet broadband
dining table with 6 chairs with views of river
modern kitchen with electric oven & hob, microwave
fridge & separate freezer
washing machine
iron & ironing board
enclosed garden with patio area
garden furniture & charcoal bbq
orchard, herb garden & organic vegetable
garden river & wildlife - red squirrels, kingfisher etc
sorry no pets & non smoking
fully accessible for wheel chair users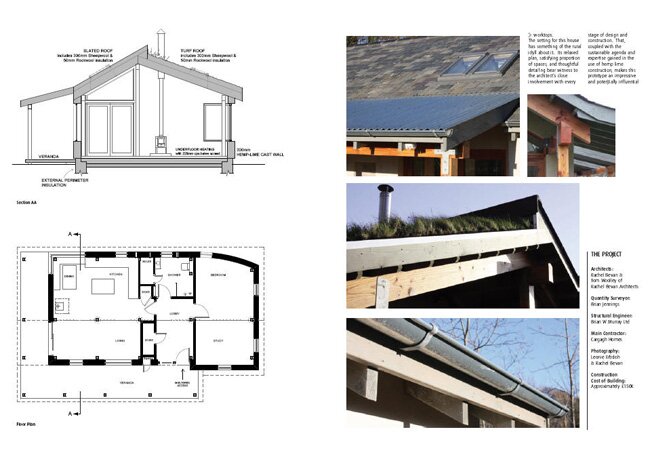 Architect designed eco house built from innovative locally sourced timber frame and natural insulation materials, this cottage has featured in several magazines. Provides a healthy and relaxing get away from the stress or urban life. The river can be heard from the house and the setting is peaceful.
Suitable for a family of 4-5 with generous sitting & dining kitchen area with lots of natural light. Ample outside furniture to sit and eat on the deck in the garden. Level access to the house and shower is provided so is suitable for wheelchair user. Natural paints and cleaning products have been used and are available.
2 miles from Crossgar village with pubs, cafes and excellent wine shop. 10 minutes from Strangford Loch and not far from Mourne Mountains and beaches. Local golf course 2 miles away. Discount offered to anyone arriving on foot or by bicycle. Will arrange pick ups from Crossgar bus service. Read more about the construction of the cottage which incorporates locally sourced Douglas Fir, hemp lime walls, two mono-pitch roofs with a turfed north face and more. See article below.
Prices:
| | |
| --- | --- |
| Prices per week unless stated otherwise | £ stg |
|   | |
| July/August | 495 |
| Easter/Christmas/New Year | 495 |
| Rest of Year | 395 |
10 % discount to returning visitors

Special Offers
No offer currently available
Availability
See availability tab above
Booking Details

£100 deposit secures booking with balance payable 4 weeks prior to arrival by cheque.
- check in 4pm, check out 10am or by prior arrangement
- rental dates flexible by arrangement in advance
What's Included
- linen/towels supplied free of charge
- electricity included
- central heating included

What's Not Included
Submitted by owner from cottage guestbook:

Enjoyed our stay immensely. Hemp Cottage has everything. Will definitely come again. Thanks for everything.
September 2012, Gibraltar


Great design and techniques in this building! A privilege to stay here!
September 2012, Scotland



Enjoyed our stay, very peaceful. The cottage is excellent, very comfortable – a perfect place to relax! Would happily recommend it to friends and family.
August 2012, Edinburgh



Had a wonderful week here, baby (aged 5 months) sleeping soundly in his cot and trying out the highchair for his first time! Thank you for an amazing stay!
July 2012, Manchester


We are all in love with Hemp Cottage. Everyday was truly beautiful. Thanks for all your 'extras' – the hen eggs, the fresh lettuce and all the logs.
June 2012, Craigavon, NI



We had a wonderfully, relaxed & peaceful break here. We love it here & have feel very at home, cosy & inspired! We hope to be back sometime and will spread the word about hemp cottage! Loved the garden, space, light, natural beauty, sound of the river, birds and watching the hens.
May 2012, Belfast, NI



Thank you very much for a lovely few days. Your house is gorgeous and certainly loved pottering around your garden.
April 2012, Kells



Truly remarkable! We had such a warm peaceful stay and enjoyed every minute of it. Thanks to Rachel & Tom who were very warm & friendly
March 2012, Crumlin



Thoroughly enjoyed experience, information and felt very welcome. Thanks!
January 2012, Monaghan



What a find! It has been a real treat waking up here every morning. We will most definitely be returning in the summer. Special thanks to Tom & Rachel & look forward to seeing you again soon.
January 2012, Glasgow



A superb house in a beautiful place! Thanks for allowing us to 'share' this environment.
September 2011



We have had a wonderful time. Thank you so much. This is a beautiful and comfortable house to stay in.
August 2010, Spain



Many thanks for exceptional hospitality, and a beautifully crafted, comfortable, hemp-crete house to enjoy. A wonderful introduction to Ireland. Thanks!
June 2010, New Zealand



What a pleasure to stay in this warm and cosy place! Muchas gracias and Vielen Dank!
January 2012, Germany & Venezula

Reviews submitted by users of IrishCottagesDown.com:

| | | |
| --- | --- | --- |
|   | Item | Rating |
|   |   |   |
|   | Cleanliness | |
|   | Location | |
|   | Rooms | |
|   | Sleep Quality | |
|   | Service | |
|   | Value | |

The perfect place for a family-friendly break: review by heidi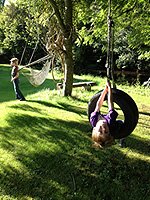 Hemp Cottage is a real find. We were made so welcome - offered a box of toys for our boys to borrow during our stay, and treated to eggs - freshly laid by the hens in the garden. Our boys loved playing on the tyre swing in the owners' garden, and the couple were wonderfully helpful in recommending places to visit and things to see in the local area.
The setting is magical - falling asleep to the sound of the river bubbling away was a real treat, and the children loved playing in the garden and doing Olympic running laps around the house. The fab decking means the children could enjoy being outside even when it rained. Lovely indulgent shower and very comfy bed which is difficult to drag yourself out of!
There is lots to do in the surrounding area - Castle Ward and the Wetlands Centre at Castle Espie both great for kids - and the cottage is the perfect place to unwind after a hectic day of fun. The garden is especially lovely - we had spectacular weather and ate outside every day, soaking up the evening sun. Who needs France or Italy?! We definitely plan to come back next year, if not before ...
Date of stay 06.08.12
Travelled With: Family with young children
Would you recommend this accommodation to a friend? Yes

| | | |
| --- | --- | --- |
|   | Item | Rating |
|   |   |   |
|   | Cleanliness | |
|   | Location | |
|   | Rooms | |
|   | Sleep Quality | |
|   | Service | |
|   | Value | |
Relaxing & innovative retreat in an amazing setting: review by mattm
Straight fives across the board for a reason - such a lovely place, brilliant house & great hosts. Comes highly recommended from us, especially for a chance to unwind.
Date of stay 17.05.12
Travelled With: With Spouse/Partner
Would you recommend this accommodation to a friend? Yes

| | | |
| --- | --- | --- |
|   | Item | Rating |
|   |   |   |
|   | Cleanliness | |
|   | Location | |
|   | Rooms | |
|   | Sleep Quality | |
|   | Service | |
|   | Value | |
A New Experience: review by cathie
I was recommended Hemp Cottage by a friend. I was in great need of a break. This was ideal, the cottage was beautiful and very comfortable. I was interested in the concept of the building. The weather was good and I was able to enjoy the garden. The owners Rachel and Tom were very helpful and friendly. I enjoyed local walks. I would go back and have no hesitation in recommending it to friends.
Date of stay 05.04.12
Travelled With: Solo Traveller
Would you recommend this accommodation to a friend? Yes

| | | |
| --- | --- | --- |
|   | Item | Rating |
|   |   |   |
|   | Cleanliness | |
|   | Location | |
|   | Rooms | |
|   | Sleep Quality | |
|   | Service | |
|   | Value | |
Beautiful and inspirational cottage: review by louisa
Hemp cottage is stunning. In January it was warm and cosy. The children enjoyed the riverside setting and Belfast was within easy reach for a day out. If you have an interest in sustainable building a stay here will fill you with ideas and confidence.
Date of stay 16.01.12
Travelled With: Family with young children
Would you recommend this accommodation to a friend? Yes


Hemp & Lime
Hemp & Lime is a lightweight construction material that can be used for walls, insulation of roofs and floors and as part of timber-framed buildings. It also can provide very good thermal and acoustic performance, and offers a genuinely low-carbon contribution to sustainable construction. Hemp-based solid wall construction is breathable and is able to absorb and emit moisture, leading to much healthier buildings. The small dwelling currently under construction uses the technique of casting hemp & lime around a centre-wall timber stud frame, to form a monolithic construction (i.e. containing various materials but not separate layers). The hemp & lime casting-work was filmed during its construction in November 2008.
Objectives of the Hemp Cottage project
In addition to providing a dwelling the objectives were:
To demonstrate how natural and low-impact materials can be used to create energy efficient buildings

To learn more about the use of hemp crete (hemp & lime) composites walling with timber frame construction

To understand the build-ability issues for both builders and designers: considering both crucial sequence and detail-design aspects

To find out how easy or difficult it would be to specify other compatible natural and low-impact materials

To create an air-tight but "breathable" building envelope that can be tested on completion, to discover how successful we'll have been in achieving good energy efficiency standards.
Not displaying correctly?
Click to view
Assistance:
The cottage can be seen straight ahead, centre of your picture as you look. The cottage is shown in its construction phase. Rotating the view is available by the controls just above the + symbol. Clicking on the arrows on the road enables you to move location.
Click the marker (changes to red on rollover) in the top left for map view. Please note the address provided by Google Maps in the top left corner is not always accurate.
Have fun and we hope you enjoy your holiday ...
Contact the owner by phone:
Rachel Bevan or Tom Woolley
Phone:
uk
+ intl
Website: click here
Property listed here since: Sept 2010
Like our site?
Please support us by informing owner that you found their dwelling on IrishCottagesDown.com. Thank you!
This Form: The contents of this form will be sent direct by email to the advertiser and will only to be used to enquire about booking this property.
IrishCottagesDown also keeps an archive copy as a back-up for advertisers. You can reference our privacy statement for more information.