The Barn at Pink Cottage

- Crossgar/Downpatrick - County Down - Northern Ireland
Profile
About
Tariff
Availability
Guestbook
Reviews
Location
Contact Owner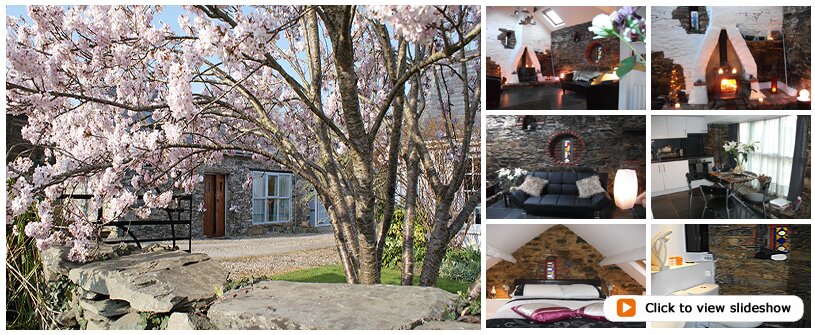 1 bedroom sleeping 2
- double bedroom
luxury sofa bed in living area which can sleep 2
wet room, electric shower & bespoke pebble flooring
open plan living area wood burning stove (basket of logs provided on arrival)
exposed stone walls feature stained glass windows
tv (freeview) & dvd, radio & cd player
playstation 2, toys & games available for children
fully equipped modern kitchen with high gloss cupboards
dining table with four chairs
electric oven & hob integrated fridge
washing machine, iron & ironing board
outside clothes line patio area & garden furniture
charcoal barbeque available
welcome pack provided
private off road parking
pets welcome
golf courses & fisheries within 3 miles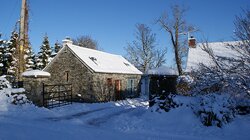 The Barn at Pink Cottage sits nestled at the edge of Rademon Estate on the picturesque Church Road. This converted stone barn houses luxurious guest accommodation and offers a unique and idyllic opportunity to experience total relaxation in a wonderful woodland setting.
The open plan living area features exposed stone walls, a log burning stove and three feature stained glass windows, all of which enhance the unique character of the barn and ooze warmth and appeal.
The modern fitted kitchen comes equipped with electric hob and oven and integrated fridge while the bathroom comes in the form of a stylish wet room with bespoke pebbled shower floor. All this is overlooked by a romantic loft style bedroom nestled under the eaves.
The Barn sits in an enclosed garden with decked area and private parking.
Strangford Lough, an Area of Outstanding Beauty, boasting miles of sandy beaches, hidden coves and rocky outcrops, is located 30 mins away, as are the Mourne mountains, undoubtedly Irelands most picturesque location.
Very central location, only 3 miles from Crossgar and 5 miles from both Downpatrick and Saintfield.
The main cities of Belfast and Lisburn are also easily accessible.
So whether it's time out you're after or a fun filled, activity led break, you'll find the Barn a perfect base from where to start.
Prices:
| | |
| --- | --- |
| Prices per week unless stated otherwise | £ stg |
| July/August | 300 |
| Easter/Christmas/New Year | 300 |
| Rest of Year | 270 |
| Weekend (2 nights) n/a Jun - Aug | 150 |
| Bank Holiday (3 nights) n/a Jun - Aug | 190 |
Bookings of one week or more in June, July & August (Sat - Sat)

Special Offers
No offers currently available
Availability
See availability tab above
Booking Details

£100 deposit secures booking with balance payable on arrival.
- check in 4pm, check out 11am - 12pm
- rental weekly Sat to Sat only - June to August
- rental outside June to Aug flexible
What's Included
- linen/towels supplied free of charge
- electricity included
- central heating included
- welcome pack
- basket of logs provided on arrival
What's Not Included
Submitted by owner from cottage guestbook:

Lovely, cosy stay in the prettiest barn we have ever seen!
Donegal, Mar 2013
Enjoyed every minute of our Valentines break in the Barn. Really warm, comfortable and welcoming. Thank you, we will defo be back.
Belfast, Feb 2013
Thank you for a lovely stay. The Barn is very special and fantastically located for the stunning surrounding scenery.
Dublin, Oct 2012
Without a shadow of a doubt a fantastic cottage and met all our expectations!! Thank you, we will be back.
Cork, Oct 2012
Comfy, trendy, practical, lovely atmosphere, clean. We will be back here agai! Only negative is the 'Barn at Pink Cottage' is not my home!! Thanks for being so helpful and welcoming.
Bournemouth, Sep 2012
Fantastic, central location to explore Northern Ireland. Lovely, modern cottage, we really enjoyed.
Bridgend, Wales, Sep 2012
Words can't describe how wonderful it has been to stay in your quaint, romantic Barn (friends want to come). Thanks for all.
England & USA, Aug 2012
Reviews submitted by users of IrishCottagesDown.com:


| | | |
| --- | --- | --- |
| | Item | Rating |
| | Cleanliness | |
| | Location | |
| | Rooms | |
| | Sleep Quality | |
| | Service | |
| | Value | |
Lovely, comfortable, relaxing cottage: Review by k g o'neill
The Barn is a perfect retreat for a solo traveler or a small family who are looking for a restful place in a lovely location. It is wonderfully and thoughtfully decorated to a high standard. The loft bedroom is comfortable, the living area is roomy and charming, and the kitchen and bathroom are well-equipped. The owners, Nicola and Chris (Pink Cottage), are genial people and very responsive to their guests' needs, but allow complete quiet and privacy as well.
The town of Crossgar has the basics (store, pub, gas) while nearby Downpatrick (10-15 minute drive) has everything you could want. Local attractions range from the St. Patrick's grave in Downpatrick to Strangford Lough, which is breathtakingly beautiful. And Belfast is only an hour's drive away.
I've stayed in a number of holiday lets in the past and The Barn at Pink Cottage ranks among the top 5. I was here for two weeks and thoroughly enjoyed my stay. I know you will too.
Date of stay 31.12.11
Travelled With: Solo Traveller
Would you recommend this accommodation to a friend? Yes


| | | |
| --- | --- | --- |
| | Item | Rating |
| | Cleanliness | |
| | Location | |
| | Rooms | |
| | Sleep Quality | |
| | Service | |
| | Value | |
Excellent Accommodation for 2: Review by cookie
The location of the Barn at Pink Cottage is excellent ... a quiet country lane with lovely hedgerows. The Barn has been tastefully renovated mixing traditional with modern. Kitchen, bathroom and living room provide adequate space for 2.
It would be a little cramped with 4 adults. A family of 4 would be ok if the children were small (not suitable for young children). The wood burning stove is a lovely and practical feature although the Barn has very efficient central heating. The bedroom has a very comfortable bed, however, as it is under the eaves there is no space to stand up. This of course is part of the charm and uniqueness of the barn. The added benefit is that they permit pets in the Barn.
Perfect for a quiet breakaway.
Review submitted 16.05.11
Date of stay 13.05.11
Travelled With: Spouse/Partner
Would you recommend this accommodation to a friend? Yes



Not displaying correctly?
Assistance:
The cottage can be seen straight ahead, dead centre, as you look. Click on the icon in the top right corner to view in full screen. (Escape will allow you to exit full screen mode). Hold the left button on your mouse and drag to view from different angles. To move along the road either click the arrows on the road or choose a spot further along the road and left click your mouse once to advance! (If you don't move your mouse far enough away you will see a magnifying glass in your circle, move a bit further and it disappears. Click and advance! If you find yourself activating the magnifying glass simply right click and zoom out.)
You will have noticed a small window to the bottom right with a little yellow man in the centre. What you are seeing in the main window is the view through his eyes. This window can be enlarged by clicking the arrow in the top left corner. Use the '+' and '-' to zoom in/out. You can also drag the yellow man to e.g. the nearest town and have a quick tour before you arrive! Of course the blue icon represents the location of the cottage.
Have fun and we hope you enjoy your holiday ...
Contact the owner by phone:
Nicola Michael
Phone:
uk
+44 28 44 83 2094 intl
Mobile
uk
+ intl
Website: not available
Property listed here since: April 2011
Like our site?
Please support us by informing owner that you found their dwelling on IrishCottagesDown.com. Thank you!
This Form: The contents of this form will be sent direct by email to the advertiser and will only to be used to enquire about booking this property.
IrishCottagesDown also keeps an archive copy as a back-up for advertisers. You can reference our privacy statement for more information.