Holiday Cottages in Dundonald, County Antrim, Northern Ireland

Self Catering Holiday Accommodation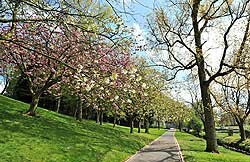 Dundonald lies east of Belfast (County Antrim) and is often deemed to be a suburb of the city. Dundonald refers to a 12th century Norman fort that stood in the town. One of the largest in Ireland, the man-made hill that the fort stood on is still in existence.

A 300 year old watermill is located on the Belfast Road in the town. The sandstone building has been extensively restored and includes a brasserie, gift shop and a 35 foot waterwheel, the largest in Ireland. The Comber Greenway is a direct traffic free link into Belfast and it passes through Dundonald. It is enjoyed by thousands of cyclists and walkers on a daily basis.
In 1986, The Dundonald International Ice Bowl was opened in the town.




The Old Orchard : Dundonald : Prices £550 - 450
The Old Orchard nestles in the heart of the countryside yet only 7 miles from Belfast city centre. The accommodation, recently converted to a very high standard. With 24 acres surrounding the property there is ample space to walk through fields, woodland tracks or just in the enclosed garden/patio area. Full listing ...