Holiday Cottages in Strangford, County Down, Northern Ireland

Self Catering Holiday Accommodation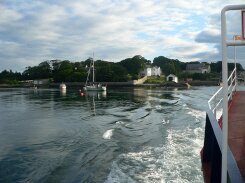 Strangford, meaning "sea inlet", is a small village situated across Strangford Lough from Portaferry and is the main base for the Strangford Lough ferry service.
The village has a small harbour, which is overlooked by rows of 19th century cottages and a fine Georgian terrace. It also has a number of good restaurants. Strangford Castle, located near the harbour in Strangford, is a 16th century tower-house with drop hole at roof level to defend the door.
One mile north-west of Strangford on a rocky height overlooking Strangford Lough is Audley's Castle, a small gatehouse type tower house with part of an enclosing bawn built in the 15th century.

No cottages currently available