Holiday Cottages in Rostrevor, County Down, Northern Ireland

Self Catering Holiday Accommodation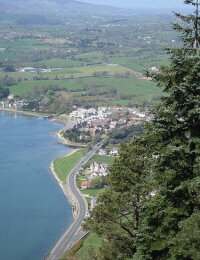 Rostrevor lies on Carlingford Lough and the hill of Slieve Martin, at the base of the Mourne Mountains and on the Kilbroney River. The town is known for its folk music festival, Fiddler's Green Festival. More information on the festival can be found at fiddlersgreenfestival.co.uk.
Nearby Cloughmore and the Kilfeaghan Dolmen are large stones surrounded by legends. Cloughmore according to local legend was tossed across Carlingford Lough from the Cooley mountains opposite, during a fight between the legendary Irish giant Finn McCool and his arch rival Ruscaire, the Ice Giant. One can see the outline of a sleeping Finn McCool in the Mourne Mountains from some places in Rostrevor. Walking around the stone seven times will apparently bring good luck.
Kilfeaghan Dolmen is situated on the main Kilkeel to Newry road about three and three quarter miles from Rostrevor. Access can be gained through Kilbroney Park. It is a prehistoric dolmen and the site is dated between 2000 and 1000 BC. The capstone is said to be one of the biggest in Ireland and is estimated to weigh between 35 and 40 tons. Excavations at the site earlier this century unearthed various bones and pottery. The views from Cloughmore are stunning. For those short of breath you will be glad to hear that driving your car close to the summit is a reality.


An Radhairc : Rostrevor : Prices £350 - 300
A modern 3-bedroom self-catering cottage offering excellent accommodation and within 7 minutes walk from the tranquil Rostrevor in County Down, with its majestic scenery, heritage trails, coastal walks and mild climate. Meaning 'the view' this cottage boasts excellent views over Slieve Martin. Full listing ...