Holiday Cottages in Holywood, County Down, Northern Ireland

Self Catering Holiday Accommodation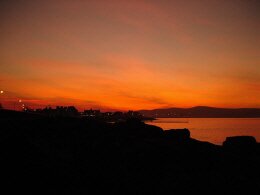 Holywood was given its name by the Normans meaning "the height of the son of Nasca". The town is located on the shores of Belfast Lough, between Belfast and Bangor. The town hosts an annual Jazz and Blues Festival.
The Old Priory ruins lie at the bottom of the High Street. The tower dates from 1800, but the oldest ruins date from the early 13th century.
Redburn Country Park is set on an escarpment overlooking Belfast Lough. It includes the mature beech woods and the scrub and grasslands at the top of the hill. Redburn provides pleasant walks in all seasons but spring is the best time to see the spectacular woodland carpet of bluebells, wood sorrel and anemones. Once at the top of the escarpment, the climb is rewarded by breathtaking views of Belfast and the south Antrim hills.


Holywood Beach Apartment : Holywood : Price £800
Luxurious shorefront apartment situated in one of Northern Ireland's most sought after locations with panoramic views of Belfast Lough and surrounding hills. Access to beach front and coastal path coastal path with walks to Holywood, Helen's Bay and Bangor. Full listing ...