Holiday Cottages in Clough, County Down, Northern Ireland

Self Catering Holiday Accommodation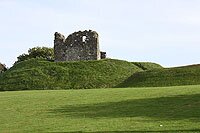 Clough from the irish 'an chloch' meaning 'stone' is a small village close to the Mourne Mountains.
Clough Castle is an excellent example of an Anglo-Norman earthwork castle with an added stone tower. Excavations on the summit of the mound in 1950 revealed that originally (in the late 12th or early 13th century) the top of the motte was surrounded by a timber palisade within which were pits for archers.
Also found was the foundation of a long rectangular hall in the north-east half of the area, probably built in the mid 13th century. Later in the same century a small rectangular stone keep was built to the south-west, two storeys high and surviving to this day, having been conserved in 1981-82.

No cottages currently available