Tara Hill Cottage

- Portaferry - County Down - Northern Ireland
Profile
About
Tariff
Availability
Guestbook
Location
Contact Owner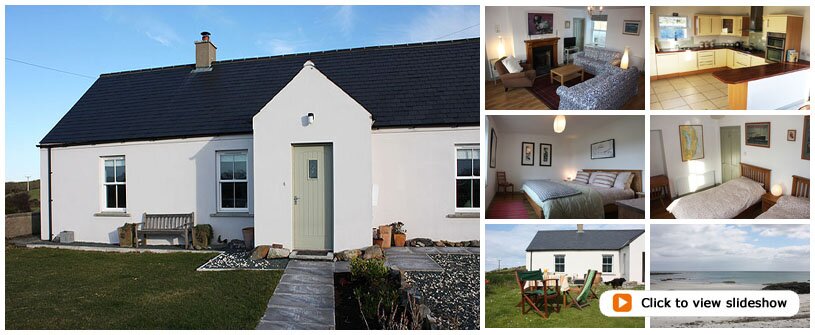 3 bedrooms sleeping up to 6
- double bedroom
- double bedroom
- twin bedroom

large bathroom with separate walk in shower
living room with wood burning stove
colour tv, dvd player & cd player
fully equipped modern kitchen with dining for six
gas cooker & hob, microwave
fridge & freezer, dishwasher
washing machine & tumble dryer
ironing facilities & hair dryer
garden & furniture & BBQ facilities
high chair & cot available on request
welcome pack on arrival
private off road parking
electricity & oil central heating included
towels & bed linen included
shops within 2 miles
pets welcome
no smoking

Tara Hill Cottage is an historic three bedroom cottage nestled at the foot of Tara Hill in County Down's Drumlin Country. With a number of beautiful safe beaches and rambling walks all close by it is an ideal self-catering holiday home. Once the home of Portaferry's most celebrated son the renowned actor and playwright Joseph Tomelty the cottage has recently been sympathetically extended into a comfortable home with a wood burning stove making it a comfortable all year round retreat.
The cottage has 2 double bedrooms, 1 twin bedroom, a large bathroom with separate walk in shower, a living room, dining room and large kitchen. The cottage is located on a quiet country lane and has off-road parking and a large private enclosed garden.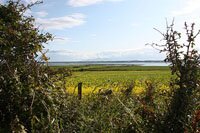 Tara Hill cottage is located at the southern tip of the Ards Peninsula. Situated in gentle rolling countryside flanked by the Irish Sea less than a mile to the east and Strangford Lough less than a mile to the west dotted with numerous Islands and curved sheltered inlets. With breathtaking views of the Mourne Mountains and yet situated just 2 miles from picturesque Portaferry and 30 miles from Belfast, Tara Hill Cottage is an easy reached haven.
Portaferry is a pretty small town guarding the entrance to Strangford lough, the largest sea inlet in the British Isles. The Ards Peninsula and surrounding areas including the Mountains of Mourne are popular tourist destinations all within easy reach. Portaferry boasts many friendly pubs (including those playing live traditional Irish music) and restaurants, Northern Ireland's only acquarium, a small marina and annual arts, maritime and cultural festivals.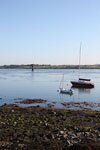 Designated as Northern Ireland's first Marine Nature Reserve, Strangford Lough is internationally renowned for its abundance and diversity of habitats and species and is an area of outstanding natural beauty. Over 2,000 marine animal and plant species have been found, many even unique to this area.
Portaferry, The Ards Peninsula and the Strangford Lough area are ideal for birdwatching, rambling, fishing, golf, sailing, canoeing and diving. With Mountstewart and Castleward two magnificent National Trust Houses and extensive estates and other National Trust lands all within 12 miles, Tara Hill Cottage is perfect for all including young families looking for a friendly and safe environment, those seeking a quiet and relaxing break or those looking for a romantic getaway.
Prices:
| | | |
| --- | --- | --- |
| £ stg | Week Rate | Wkend Rate |
|   |   | |
| July/August | 575 | n/a |
| Easter/Christmas & New Year | 575 | n/a |
| Rest of Year | 375 | 220 |
We do reduced rates for small parties (2 people).
Special Offers
No offers currently available
Availability
See availability tab above
Booking Details

Payment including £150 damage deposit payable 4 weeks prior to arrival. Damage deposit will be posted back to you within 7 days of departure. To cover damage over and above normal "wear and tear".
- check in 4pm, check out 10am
- rental Saturday to Saturday or by special arrangement
What's Included
- linen/towels supplied free of charge
- electricity included
- central heating included
- welcome pack

What's Not Included
Submitted by owner from cottage guestbook:

A real holiday, thank you.
Auckland, New Zealand - 24/06/2011
Lovely home, beautifully presented. Thank you. Look forward to staying next year.
Australia - 28/5/11
Brilliant holiday - beautiful cottage, ta
Scotland - 11/5/11
A revitalising holiday. An ideal vantage point from which to see some of the most stunning corners of the Northern Ireland coast. The cottage is perfectly done - very welcoming, warm & comfortable. Thanks!
Norfolk - 9/5/11
Great cottage & felt just like home. Weather super all week & plenty to see and do. Thanks for making this a memorable stay.
County Antrim - 1/5/11
Well equipped cottage. Great weather so we enjoyed the space inside and out. Loved the art work. Thank you.
North Yorkshire - Easter 2011
Beautiful cottage - comfy beds, wonderful shower! Everything we needed, real home from home. Don't want to leave!
Reading - 20/4/11
Great time. Dog loved it. We loved it. We liked treehouse.
Fife - 10/4/11
Quiet & relaxing break. Great walks nearby.
Leixlip, County Kildare - 20/4/2011

Not displaying correctly?
Assistance:
The cottage is in full view as you look. Click on the icon in the top right corner to view in full screen. (Escape will allow you to exit full screen mode). Hold the left button on your mouse and drag to view from different angles. To move along the road either click the arrows on the road or choose a spot further along the road and left click your mouse once to advance! (If you don't move your mouse far enough away you will see a magnifying glass in your circle, move a bit further and it disappears. Click and advance! If you find yourself activating the magnifying glass simply right click and zoom out.)
You will have noticed a small window to the bottom right with a little yellow man in the centre. What you are seeing in the main window is the view through his eyes. This window can be enlarged by clicking the arrow in the top left corner. Use the '+' and '-' to zoom in/out. You can also drag the yellow man to e.g. the nearest town and have a quick tour before you arrive! Of course the blue icon represents the location of the cottage.
Have fun and we hope you enjoy your holiday ...
Contact the owner by phone:
Kate & Mark
Mobile
uk
+ intl
Website: click here
Property listed here since: May 2011
Like our site?
Please support us by informing owner that you found their dwelling on IrishCottagesDown.com. Thank you!
This Form: The contents of this form will be sent direct by email to the advertiser and will only to be used to enquire about booking this property.
IrishCottagesDown also keeps an archive copy as a back-up for advertisers. You can reference our privacy statement for more information.