Tory Bush

- Bryansford / Newcastle - County Down - Northern Ireland
Profile
About
Tariff
Availability
Guestbook
Location
Contact Owner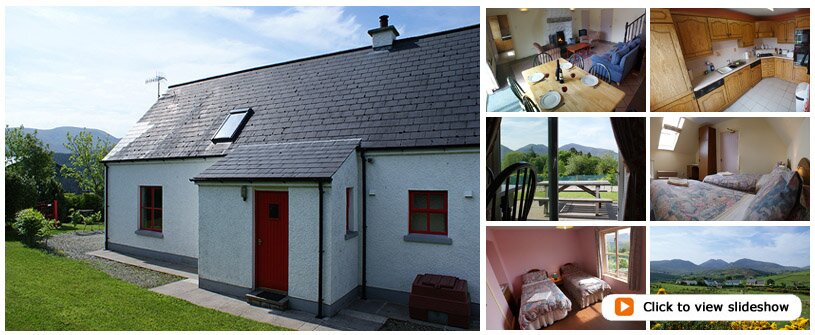 3 bedrooms sleeping up to 6
- twin/double bedroom upstairs: ensuite, mountain views
- twin/double bedroom, wash basin
- twin/double bedroom, wash basin
ensuite bathroom with shower, sink & toilet
main bathroom with bath, sink & toilet
bright comfortable open plan living area, high ceiling
feature fire place, tiled floors
dining for six patio
doors to back garden with mountain views
tv & dvd - wifi access available for small charge
fully equipped modern kitchen
electric fan oven, gas hob & microwave
fridge & freezer & dishwasher
washing machine & dryer
private off road parking
electricity included
linen provided
gas central heating extra
cot, high chair & stair gate available on request - small charge
sorry, no smoking or pets allowed in cottages
bicycles available for hire

There are 8 dwellings at Torybush, ranging from 1 to 4 four bedrooms.
Tory Bush is a collection of holiday homes ranging from one to four bedrooms. This listing shows you around a three bedroom dwelling.
The cottage is situated in a tranquil country setting enjoying unrestricted and uninterrupted panoramic views of the Mourne Mountains. The dwelling is the furthermost building on the complex. The house is painted white with red windows and doors. The patio door is used as the main entrance. There is car-parking for two cars along the gables of the building.

The cottage has a large vaulted ceiling living room with an open fire and chimney rising to the roof ridge. On one side of the sitting room there is a large patio door with superb views of the mountains and on the other side there is a door leading to a small porch and storage cupboard which can be used as a drying room having hanging rails and a radiator.
Opposite the fireplace is the staircase rising to a minstrels gallery landing and door into the master bedroom. This room has sloping ceilings as it extends into the roof void and a velux roof window with tremendous views of the mountains.
This room has a large 6 foot bed that can be zipped apart to form two three foot single beds if all single beds are required. Off this room is a small narrow shower-room with toilet and wash hand basin.
Back downstairs on either side of the fireplace are two doors, one leads to the kitchen which is large with all modern appliances, dishwasher, washing machine, fridge-freezer etc . The other door leads to a small lobby where the boiler cupboard is located and then to the main bathroom.
Opposite the fireplace there are two doors leading to the two downstairs bedrooms, these rooms each have a two single beds that again can be zipped together to form doubles. So in this house it is possible to have either 3 double beds or 6 singles or any mix in between. Each of these rooms also has a wash hand -basin.
Out side there is a patio with a park style picnic bench, and a small grassed garden area surrounded by a beech hedge. This garden is generally quite open to the adjacent house garden and the remainder of the cottage grounds.

Prices:
| | | | |
| --- | --- | --- | --- |
| £ stg | 6 people | 4 people | 2 people |
| Weekly Price High Season | 700 | 500 | 330 |
| Weekly Price Off Season | 560 | 400 | 282 |
| 6 nights - off peak | 491 | 393 | 246 |
| 5 nights - off peak | 449 | 359 | 224 |
| 4 nights - off peak | 407 | 325 | 203 |
| 3 nights - off peak | 354 | 283 | 177 |
| 2 nights - off peak | 280 | 200 | 132 |
Peak Periods are from Saturday the 30th of June to Saturday the 1st Sept, and any stay over Christmas, Easter and New Year. The 2 person rate is specially reduced rate, offered where only two persons stay throughout the duration of the visit, if anyone else stays then the tariff reverts to the full house price.
Special Offers
No offer currently available

Availability
See availability tab above
Booking Details

20% deposit secures booking with balance payable 4 weeks prior to arrival. £100 good care deposit also required (refunded).
- check in 4pm, check out 10am or by prior arrangement

What's Included
- linen/towels supplied free of charge
- electricity included

What's Not Included
- gas central heating extra
- wifi access, small charge
- cot, highchair & stair gate: small charge
View availability and book online below:
Find an available date below to book, you will then be forwarded to the owners site to complete your booking on a secure server. Please mention on booking form that you found the cottage on IrishCottagesDown - this allows us to improve our service to you and help us grow! Many thanks.
Submitted by owner from cottage guestbook:

Fab place and location, our 1st visit to here but definitely NOT OUR LAST! Don't want to go.
Best Christmas ever!! Hope to return soon!! Thanks
The Sentiments about Tory Bush are the same as our first visit- this is now our 14th!!
Great Place, perfect location, lovely atmosphere thanks.
Great views, tidy quiet comfortable accommodation, had a lovely time. Thanks again
Excellent House, everything to hand, had great fun, lovely views too.
Lovely comfortable house in great surroundings. Had a great time despite the changeable weather.
This is our third visit and was as good as the 1st. Will definitely be back.

Not displaying correctly?
Assistance:
The cottage can be seen straight ahead, dead centre, as you look. Click on the icon in the top right corner to view in full screen. (Escape will allow you to exit full screen mode). Hold the left button on your mouse and drag to view from different angles. To move along the road either click the arrows on the road or choose a spot further along the road and left click your mouse once to advance! (If you don't move your mouse far enough away you will see a magnifying glass in your circle, move a bit further and it disappears. Click and advance! If you find yourself activating the magnifying glass simply right click and zoom out.)
You will have noticed a small window to the bottom right with a little yellow man in the centre. What you are seeing in the main window is the view through his eyes. This window can be enlarged by clicking the arrow in the top left corner. Use the '+' and '-' to zoom in/out. You can also drag the yellow man to e.g. the nearest town and have a quick tour before you arrive! Of course the blue icon represents the location of the cottage.
Have fun and we hope you enjoy your holiday ...
Book Online under the 'availability' tab above
Contact the owner:
Contact the owner by phone:
David Maginn
(028) 4 uk
+ intl
Website: click here
Property listed here since: June 2010
Like our site?
Please support us by informing owner that you found their dwelling on IrishCottagesDown.com. Thank you!
This Form: The contents of this form will be sent direct by email to the advertiser and will only to be used to enquire about booking this property.
IrishCottagesDown also keeps an archive copy as a back-up for advertisers. You can reference our privacy statement for more information.