Strangford View Mews

- Killyleagh - County Down - Northern Ireland
Profile
About
Tariff
Guestbook
Location
Contact Owner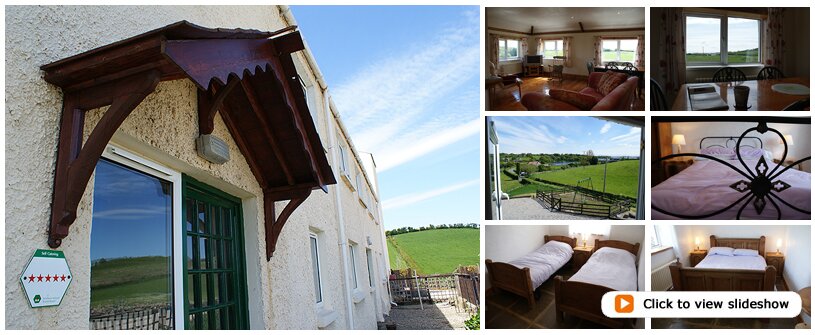 3 bedrooms sleeping up to 6
- double bedroom 1st floor, cast iron bed, solid pine floors
- double bedroom, ground floor, stone floors
- twin bedroom, ground floor, stone floors
open plan living area and galley kitchen, solid pine floors
living area on 1st floor to take advantage of panoramic views over Strangford Lough and surrounding countryside
tv, dvd & small book library
dining for 6, overlooking countryside
kitchen window with further countryside views
electric oven, hob & microwave
fridge & freezer, dishwasher
washing machine & dryer, ironing facilities
shower room on first floor with toilet & basin, solid pine floors
bathroom on ground floor: bath, toilet, basin - stone floors
cot, high chair & stair gate available on request
perfect accommodation for the equestrian community with stabling available for horses
private off road parking
small dogs by arrangement only
4 cottages available 1 x 3 bed, 2 x 2 bed, 1 x 1 bed


Strangford View Mews consists of 1 x 3 bedroom, 2 x 2 bedroom and 1 x 1 bedroom cottages.
The cottages (or mews) are converted 18th Century working horse stables that sit in an area of outstanding natural beauty, rich in history and nestled in the very heart of County Down. Their unique location allows guests to choose whether they spend their days immersed in the delightful local community, or to experience city life with the City of Belfast just a short drive or bus journey away. There are four cottages available (1 x 3 bed, 2 x 2 bed, 1 x 1 bed).
Employed as working horse stables in the 18th Century, the mews have been converted into beautiful, one of a kind apartments for our guests to enjoy. No detail was spared when we converted these beautiful buildings into living spaces.
The first floor lounges with their galley kitchens, pine floors and handcrafted antique furniture offer panoramic views of Strangford Lough and the surrounding countryside. As soon as you enter the cottages you are met with a warm and welcoming atmosphere.

Each of the mews has its own unique layout and character, with two of them having two bedrooms, one with three bedrooms and one with one bedroom, there is sure to be an arrangement here to meet your needs perfectly.
Our mews cater well for the equestrian community. We are home to International Three Day Event rider Joseph Murphy. Riding holidays can be arranged with us and stabling is available for your horses or ponies onsite. We are great animal lovers and have a beautiful pet lodge just a short walk from the mews which allows our guests to plan their breaks with us and bring along their pets.
We are nestled in an area that is exceedingly wealthy in historical relics. The very name "Strangford" is derived from the Old Norse "Strangr-fjorðr", meaning Strong Fjord. This area was once a Viking stronghold and traditions from this time still live on today.

There are historical sites aplenty in our area: cathedrals, monasteries, forts, castles and towers. Only a twenty minute drive away is the town of Downpatrick, housing Down Cathedral: the final resting place of St Patrick.
In more recent times this area was home to much of the island's ruling Gentry, whose homes are now in the hands of the National Trust with many open to the public.
Prices:
Prices per week unless other wise stated
| | | |
| --- | --- | --- |
| £ stg | 3 bed | 2 bed |
|   | | |
| March - Sept & Christmas | 500 | 400 |
| 3 nights weekend | 325 | 225 |
| Oct to February | 400 | 300 |
Special Offers
No offers currently available


Availability
Contact owner for available dates
Booking Details

£100 deposit secures booking with balance payable on arrival.
- check in 4pm, check out 11am
- rental Saturday to Saturday or by special arrangement
What's Included
- linen/towels supplied free of charge
- central heating included

What's Not Included
- electricity by metre
Submitted by owner from cottage guestbook:

Thoughtfully beautiful. Wonderfully quiet. Holly had us trained within minutes!
R.P.
Thank you for your cordial welcome. We have beautiful house and beautiful family (and dogs) !!! We'll never forget that !!!
V & K
Thank you for the warm welcome. The views were lovely.
JC
We really enjoyed our stay. Thank you for the very warm welcome.
P. Callaghan
I loved it here
C.F.
Thank you for a wonderful stay.
Pauline
We love it here, very peaceful.
Mary & Marion

Not displaying correctly?
Click to view
Assistance:
The cottages can be seen straight ahead as you look. Rotating the view is available by the controls just above the + symbol. Clicking on the arrows on the road enables you to move location.
Click the marker (changes to red on rollover) in the top left for map view. Please note the address provided by Google Maps in the top left corner is not always accurate.
Have fun and we hope you enjoy your holiday ...
Contact the owner by phone:
Laraine Andrews
Phone:
uk
+ intl
Mobile
0 614 uk
+ 44 614 intl
Website: click here
Property listed here since: June 2010
Like our site?
Please support us by informing owner that you found their dwelling on IrishCottagesDown.com. Thank you!
This Form: The contents of this form will be sent direct by email to the advertiser and will only to be used to enquire about booking this property.
IrishCottagesDown also keeps an archive copy as a back-up for advertisers. You can reference our privacy statement for more information.