Hillcrest, Drumlin Lane

- Hillsborough - County Down - Northern Ireland
Profile
About
Tariff
Guestbook
Video
Location
Contact Owner
3 bedrooms sleeping up to 6
- downstairs double bedroom: kingsize bed, tv
- upstairs bedroom: double bed, tv, ensuite
- upstairs bedroom: twin room, tv, ensuite

downstairs disabled access wetroom with bath, shower, basin & toilet
upstairs ensuites with shower, basin & toilet
open plan living area with wood burning stove
flat screen tv & dvd blu ray player
selection of books, dvds & board games
fully equipped modern kitchen
electric range cooker, microwave
fridge freezer & dishwasher
dining table with seating for 4 - 6
utility area with washing machine & dryer, ironing facilites
leisure area with table tennis, pool, fussball tables
outside trampoline, patio area & barbeque
large garden with mountain and countryside views
fruit and vegetable garden
electricity and heating included
cot & highchair available
bed linen & towels supplied
welcome pack
sorry no pets & non smoking
ample car parking space
hillcrest minimises your impact on the environment through the use of solar panels, rain water harvesting and heat recovery systems

Hill Crest is one of two holiday cottages at this location. Croob View, a two bedroom home, is also available.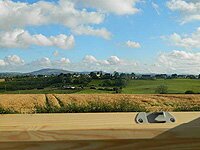 Hillcrest, Drumlin Lane was built, and is owned and operated by the Harveys, a farming family who have lived for generations in the Hillsborough area. Recognising the tourism potential in the area, Glenn Harvey conceived of the idea of building holiday cottages or self catering accommodation at a time when there was no hotel in the greater Lisburn area.
Committed to an environmentally responsible build, Drumlin Lane Self Catering was designed and built with the environment in mind, giving travellers the opportunity to lower their carbon footprint, while enjoying their holiday in the idyllic Hillsborough countryside.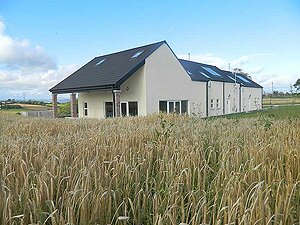 Built using Timberframe, and incorporating triple glazed glass, Drumlin Lane boasts high levels of air tightness, keeping the heat in and the cold out. Our rainwater recycling system collects rainwater from the roof that is then used in the toilets, washing machines, and outside taps. Solar panels help produce hot water, and a heat recovery system boasting 90% efficiency helps to heat the houses. Our heat recovery system also incorporates air filters, making life that little more comfortable during the summer for those with allergies.
With its own vegetable patch/garden 100 yards from the house, guests are welcome to indulge their green fingers, and we encourage our guests to enjoy the pickings from the garden in season. If you would be interested in you own allotment on site, please let us know.
On site, Drumlin Lane has its own 14' Trampoline, Table Tennis Table, Pool Table, and lots of books, games, and DVDs to keep everyone entertained. If you are bringing bikes or sporting equipment, we have lots of secure space for storage.
15 miles from Belfast
19 miles from George Best City Airport
22 miles from International Airport
17 miles from Ferry Ports and Titanic Quarter
3 miles from Hillsborough Castle/Park & Express Bus Service
2 miles from Lisnagarvey Hockey Club
20 miles from The Mountains of Mourne
75 miles from the Giants Causeway
10 miles from Slieve Croob
20 miles to Lough Neagh
7 miles to Lisburn Leisure Centre/Omniplex
6 miles to Down Royal Racecourse
6 miles to Down Royal Park and Lisburn Golf Clubs
15 miles to The Giants Ring
Prices:
| | |
| --- | --- |
| Prices per week unless stated otherwise | £ stg |
| | |
| daily rate | 99 |
| weekly rates from | 425 |
summer months minimum booking 2 nights at weekend
Special Offers
No offers currently available
Availability
Contact owner for available dates
Booking Details

£100 deposit secures booking with balance payable 6 weeks prior to arrival.
- check in after 3pm, check out before 11am
What's Included
- linen/towels supplied free of charge
- electricity & heating included
- welcome pack
What's Not Included
Not displaying correctly?
Assistance:
The cottage is unfortunately not viewable from the road. The cottage is at the end of the next left turn as you look. Nevertheless you can get a great idea as to what the immediate environment is like. Click on the icon in the top right corner to view in full screen. (Escape will allow you to exit full screen mode). Hold the left button on your mouse and drag to view from different angles. To move along the road either click the arrows on the road or choose a spot further along the road and left click your mouse once to advance! (If you don't move your mouse far enough away you will see a magnifying glass in your circle, move a bit further and it disappears. Click and advance! If you find yourself activating the magnifying glass simply right click and zoom out.)
You will have noticed a small window to the bottom right with a little yellow man in the centre. What you are seeing in the main window is the view through his eyes. This window can be enlarged by clicking the arrow in the top left corner. Use the '+' and '-' to zoom in/out. You can also drag the yellow man to e.g. the nearest town and have a quick tour before you arrive! Of course the blue icon represents the location of the cottage.
Have fun and we hope you enjoy your holiday ...
Contact the owner by phone:
Glenn Harvey
Mobile:
uk
+ intl
Website: click here
Property listed here since: Dec 2012
Like our site?
Please support us by informing owner that you found their dwelling on IrishCottagesDown.com. Thank you!
This Form: The contents of this form will be sent direct by email to the advertiser and will only to be used to enquire about booking this property.
IrishCottagesDown also keeps an archive copy as a back-up for advertisers. You can reference our privacy statement for more information.