Splash Cottage

- Bangor - County Down - Northern Ireland
Profile
About
Tariff
Availability
Guestbook
Location
Contact Owner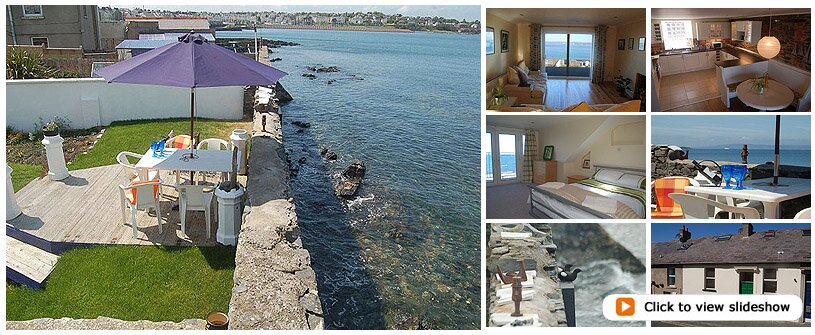 3 bedrooms sleeping up to 6
- double bedroom, balcony, sea views, ensuite, top floor
- double bedroom on middle floor (sea views)
- twin bedroom on ground floor (sea views)

ensuite with shower, w.c & basin
main bathroom: bath, shower, basin & toilet
cottage is laid out over three floors
lounge on middle floor with balcony & sea views
open plan kitchen area on ground floor with lounge and patio doors to garden, open fire
ground floor lounge with tv and sea views
fully equipped modern kitchen
electric oven & hob, microwave
fridge freezer & dishwasher
laundry room with washing machine & dryer
gas central heating
bed linen & towels included
private garden (child friendly) with sea lapping back wall
sea views are panoramic and unrestricted
sunshine in rear garden all day with beautiful sunsets
free wifi internet access
welcome pack on arrival
sorry no pets & non smoking
car parking available

Splash Cottage is partnered with High Tide Cottage right next door, a two/three bedroom holiday home.
This self catering holiday accommodation is based in the unique and beautiful Splash Cottage by the water's edge where the Belfast Lough meets the Irish Sea, views from the rear of the property are magnificent and the cottage is also privileged to have wonderful Guillemots nesting right outside the property.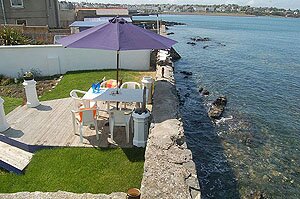 The well appointed and recently renovated holiday rental property has three bedrooms sleeping up to a maximum of six people. There is convenient car parking outside the property and we are within walking distance of Bangor Town Centre, Bangor Marina and Ballyholme Yacht Club.
Bangor Guillemots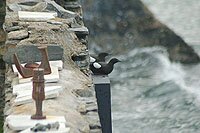 The harbour and bay area in Bangor has attracted Black Guillemots to establish a colony in the the area, nesting around holes in the North Pier and also nest boxes throughout the central and south piers of the harbour and marina areas and can be seen throughout the year in the Bay area.
Splash Cottage is fortunate to play host to Guillemots just outside of the rear of the property where they nest in the walls and rocks just below the property's garden.
Academics from local universities have studied the nesting patterns and behaviour of the birds from the cottage and the relative tameness of the birds means that the chances of seeing them during your stay are very high, however we do ask you not to disturb them!
Walking Distances:
Bangor Town Centre (shopping / restaurants / banks / nightlife) - 10 mins
Bangor Marina - 7 mins
Ballyholme Yacht Club - 7 mins
Salty Dog Restaurant - 5 mins
Royal Ulster Yacht Club - 3 mins
Jamaica Inn Bar & Restaurant - 3 mins
Ballyholme Beach - 10 mins
Bangor Castle - 20 mins
Prices:
| | |
| --- | --- |
| Prices per week unless stated otherwise | £ stg |
|   | |
| 7 nights, sat to sat | 650 |
| weekend, 2 nights | 300 |
| bank holiday weekend, 3 nights | 400 |

Special Offers
No offers currently available
Availability
See availability tab above
Booking Details

20% deposit secures booking with balance payable 6 weeks prior to arrival.
- check in 4pm, check out 10am or by prior arrangement

What's Included
- linen/towels supplied free of charge
- electricity included
- welcome pack
- initial bucket of coal/fuel for fire

What's Not Included
- gas central heating
Submitted by owner from cottage guestbook:

Stayed at splash cottage for a week in June whilst visiting Northern Ireland. All we can say is that it is first class accommodation both inside and out. Very spacious and modern without losing the charm and character of a seaside cottage and well equipped. All rooms have seaviews.
Watch out for the Black Guillemots in the garden, they're hilarious. Paul the owner was very helpful in both booking and while we were there, pointed us to the best pubs and restaurants. Must visit the Jamaica Inn (100 yards away) for great food, drink and atmosphere.

Jan 2012

We can't rate this house and its location highly enough. Four of us stayed for a week in the summer (2012) and just loved the house, the views, the convenience to town and the marina, pubs, restaurants and shopping.
The house is extremely well-equipped with everything you could possibly need, including takeaway menus (yes we did get lazy!), BBQ, microwave etc. The top and middle floors are like a self-contained boutique hotel and were great for my daughter and her partner as they had their own suite of bedroom (with balcony), shower room and sitting room with patio doors to a decked veranda - all with fantastic sea views.
The garden is the most wonderfully relaxing place to dream away the hours and watch the wonderful guillimots, the turnstones at the water's edge (epecially beside the Long Hole, a few minutes walk away), the gulls diving straight down like arrows for fish, and... we even saw a seal a few times! There is always a variety of boats in the bay, from tankers to tiny fishing boats, and Thursdays evenings are magical because the local yacht club comes out in force for races and is an amazing sight against the sunset, Ah yes, the sunsets - the most beautiful you will see anywhere, I promise.
What can I say? - if you find anywhere more magical to stay, I will be amazed.
Ps: Dont' forget the binoculars - thank heavens we didn't!
July 2012

We are two Canadian couples who shared the lovely Splash Cottage for a few days this fall. We arrived late on a blustery evening and were warmly greeted by Paul. There was a fire ready and everything we needed for breakfast in the morning...as well as a few beverages for that evening! We fell in love with the place right then and there!
With bedrooms and bathrooms on separate floors it is a perfect spot for couples travelling together and also for families. Splash cottage is clean, well furnished and equipped. We spent most of our time in the cozy warm kitchen where Paul laid a fire for us each afternoon and we could enjoy the beautiful sea views. We also very much enjoyed the location as we could easily walk to restaurants/pubs and enjoy the shops of Bangor. The Salty Dog (our favourite) is only a 10 minute walk and we also enjoyed The Jamaica Inn which is even closer. Bangor was a great location for us to do day trips to Belfast and the Giant's Causeway. The coastal route recommended by Paul was fabulous!
He is a wonderful host and we highly recommend Splash Cottage to anyone visiting the Belfast area.
Sept 2012


Not displaying correctly?
Assistance:
The cottage is in the middle of your picture, cream in colour and to the left of the home with the blue door. To really appreciate what this holiday home has to offer you need move down the road to your right or left about 100 metres. Only then can you understand what makes this holiday home special. Click on the icon in the top right corner to view in full screen. (Escape will allow you to exit full screen mode). Hold the left button on your mouse and drag to view from different angles. To move along the road either click the arrows on the road or choose a spot further along the road and left click your mouse once to advance! (If you don't move your mouse far enough away you will see a magnifying glass in your circle, move a bit further and it disappears. Click and advance! If you find yourself activating the magnifying glass simply right click and zoom out.)
You will have noticed a small window to the bottom right with a little yellow man in the centre. What you are seeing in the main window is the view through his eyes. This window can be enlarged by clicking the arrow in the top left corner. Use the '+' and '-' to zoom in/out. You can also drag the yellow man to e.g. the nearest town and have a quick tour before you arrive! Of course the blue icon represents the location of the cottage.
Have fun and we hope you enjoy your holiday ...
Contact the owner by phone:
Splash Cottage
uk
+ intl
Website: click here
Property listed here since: May 2012
Like our site?
Please support us by informing owner that you found their dwelling on IrishCottagesDown.com. Thank you!
This Form: The contents of this form will be sent direct by email to the advertiser and will only to be used to enquire about booking this property.
IrishCottagesDown also keeps an archive copy as a back-up for advertisers. You can reference our privacy statement for more information.