Emmaville

- Bangor - County Down - Northern Ireland
Profile
About
Tariff
Guestbook
Location
Contact Owner
5 bedrooms sleeping up to 12
- large family bedroom: two double beds
- double bedroom
- double bedroom
- double bedroom
- double bedroom, ground floor
one complete bathroom with toilet and wash basin
one shower room with toilet and wash basin ground floor
one toilet and wash basin
large bright comfortable living room area, sea views
dining/family room with digital tv & dvd player
first floor drawing room with Sky TV
fully equipped modern kitchen
dining space in kitchen as well as dining/family room
electric oven & hob, microwave
fridge/freezer, dishwasher
washing machine & dryer
ironing facilities
baby cot & highchair available on request
sorry no pets & non smoking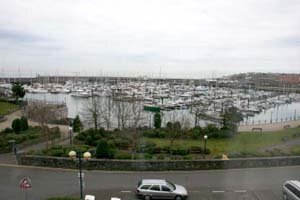 Ideally located on the the sea front, Emmaville's extensive accommodation provides outstanding facilities with ample surrounding activities to enable you to enjoy that well deserved break. Recently renovated, decorated and re-furnished, Emmaville has been awarded the maximum Northern Ireland Tourist Board five-star rating.
"Emmaville" is within easy walking distance to all of Bangor's facilities and attractions. Its gardens run down to the famous Ulster Way Coastal path.
Bangor Marina, is one of the largest marinas in all of Ireland and was recently awarded the prestigious 5 Gold Anchor Award. World class sailing events attract visitors from all over the globe.
Bangor seafront development, which includes the marina, has beautiful gardens and a promenade which leads to Pickie Fun Park and the North Down Coastal Path. The Fun Park has an Adventure Playground, with maritime themed equipment, a Paddling Pool and a Miniature Railway which travels around the colourful Fun Park.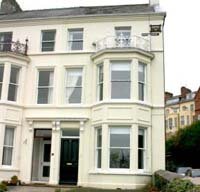 Short sea cruises run from Pickie Fun Park. Fishing, bird watching and sight seeing boat trips are also available.
The North Down Coastal Path is one of the finest shoreline walks in Ireland stretching from Holywood to Portvoe near Groomsport. This path takes you along the Bangor sea front to Helen's Bay, with Crawfordsburn Beach on the way.
Ballyholme Beach is a short distance from the heart of Bangor. This mile-long beach leads to the National Trust nature reserve at Ballymacormick Point. Bangor's old world charm is enhanced with all of the modern amenities expected by today's visitors. The location is ideal for walking, golfing, touring, sailing, fishing and is close to all of Bangor's fine restaurants and shops.
"You are welcome to enjoy the freedom and independence of a home away from home" Ann Thompson, Proprietor.
Prices:
| | |
| --- | --- |
|   | £ stg |
|   | |
| Weekly Price | 675 - 575 |
Special Offers
No offers currently available
Availability
Contact owner for available dates
Booking Details

£100 deposit secures booking with balance payable on arrival.
- check in/out by arrangement
What's Included
- linen/towels supplied free of charge
- electricity included
- central heating included

What's Not Included
Submitted by owner from cottage guestbook:

Great house, fabulous location. Would love to bring my family for Christmas. Watch this page for my next visit!
England
Perfect base for family wedding.
Scotland
What an upgrade! You could watch the marina forever. Great week.
England
Your house is a credit to you. A very relaxing place. Thank you.
England
"You only have to look out the window to feel in holiday mode!"
England
We came over for our wedding and had a wonderful stay, thank you, thank you, thank you"
England

Not displaying correctly?
Assistance:
Emmaville can be seen straight ahead, end dwelling of the terrace. You'll have to do a 360 to really appreciate the location. Click on the icon in the top right corner to view in full screen. (Escape will allow you to exit full screen mode). Hold the left button on your mouse and drag to view from different angles. To move along the road either click the arrows on the road or choose a spot further along the road and left click your mouse once to advance! (If you don't move your mouse far enough away you will see a magnifying glass in your circle, move a bit further and it disappears. Click and advance! If you find yourself activating the magnifying glass simply right click and zoom out.)
You will have noticed a small window to the bottom right with a little yellow man in the centre. What you are seeing in the main window is the view through his eyes. This window can be enlarged by clicking the arrow in the top left corner. Use the '+' and '-' to zoom in/out. You can also drag the yellow man to e.g. the nearest town and have a quick tour before you arrive! Of course the blue icon represents the location of the cottage.
Have fun and we hope you enjoy your holiday ...
Contact the owner by phone:
Ann Thompson
Phone:
uk
+ intl
Mobile
uk
+ intl
Website: click here
Property listed here since: Feb 2011
Like our site?
Please support us by informing owner that you found their dwelling on IrishCottagesDown.com. Thank you!
This Form: The contents of this form will be sent direct by email to the advertiser and will only to be used to enquire about booking this property.
IrishCottagesDown also keeps an archive copy as a back-up for advertisers. You can reference our privacy statement for more information.