Coolnacran Cottage

- Loughbrickland Courtyard - Banbridge - County Down - Northern Ireland
Profile
About
Tariff
Reviews
Location
Contact Owner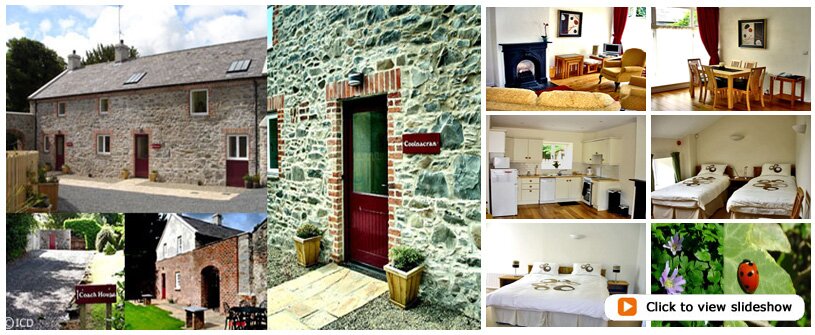 3 bedrooms to sleep 6
- 2 double/twin ensuite bedroom upstairs
- 1 double/twin downstairs suitable for wheelchair users
living room has traditional cast-iron fireplace with gas fire, windows overlooking wall garden
living room area opens to patio area
tv and dvd player
fully equipped kitchen with electric hob and oven
microwave, fridge freezer, dishwasher
separate laundry facilities with washing and drying machines, also serves as a 'wet room' for coats/boots
cot and highchair available on request
bed linen & towels provided
telephone & broadband internet access
non smoking
sorry, no pets
welcome basket with tea, coffee, sugar, milk, salt, bread, butter & orange juice as well as some basic domestic starter supplies

Coolnacran Apartment is one of two apartments at this location. Lisnagade, a 2 bedroom apartment is also available.
Coolnacran is one of two apartments located in the old Coach House which has been extensively restored using local materials. The Coach House is part of a complex of buildings behind Loughbrickland House which also includes a byres (awaiting restoration) and stables grouped around a picturesque gravelled courtyard.
An archway leads into the old walled garden where each apartment has a designated patio area with garden furniture and there is safe playing space for children.

Coolnacran is situated behind the historic Loughbrickland House which has been in the possession of the Whyte family since the early 1700s. It is located less than half a mile outside Loughbrickland village and the Courtyard offers accommodation certified as 5 star standard (NITB).
Coolnacran is beside a large spectacular circular lake whose focal point is a 'crannóg' or artificial island originating as a place of refuge and retreat from potential invaders in Celtic times. Its position has been strategic since earliest times on this main north-south route which ran originally from Tara, Co. Meath, site of the court of the High Kings of Ireland, to the north coast.
The situation ensures that the village enjoys the best of both worlds - a sense of rural calm and tranquillity, but also easy access not only to major centres of commerce and employment, but also to places of major interest to the visitor as diverse as the cathedral city of Armagh and the Mourne Mountains.
Loughbrickland Historic Trail:
This trail on the very doorstep of the Coach House takes the walker not only on a journey through the village of Loughbrickland, but also through time, from the earliest traces of settlements in the area to the latest developments. It starts by the lake, proceeds through the village and into the grounds of Loughbrickland House; it circumnavigates the house starting from the front gate-lodge, going through the woods and past an impressive fort over 100 feet in diameter and then returning to the front gate via a different route.
Local archaeological sites:
Three ancient sites were uncovered during recent work on the A1, one just south of Loughbrickland village, another at the Fourmile and a third in the Derrycraw townland, near Beech Hill. Neolithic houses (dated to between 3710BC and 3602BC) were found as well as evidence of habitation up to and during the Bronze Age (1600 BC – 800BC). These have been mapped, but on the whole not marked, except for the Legananny Dolmen - for which transport is necessary.

Prices:
| | | | |
| --- | --- | --- | --- |
| £ stg | Per Week | 3 nights | 2 nights |
|   | | mon - fri | fri - sat |
| July/August | 560 | 325 | 325 |
| May/June/Sept/Oct* | 500 | 285 | 285 |
| Jan - April | 460 | 280 | 280 |
| Rest of Year** | 460 | 280 | 280 |
*high season rates apply to May, June & Oct bank holidays
**mid season rates apply to Easter, Christmas & New Year
Special Offers
No offers currently available
Availability
Contact owner for available dates
Booking Details

Deposit of £100.00 is required to reserve the accommodation with balance to be paid 6 weeks prior to arrival. £100 refundable deposit also required in regard to loss/damage.
- check in 4pm, check out 10am or by prior arrangement

What's Included
- linen/towels supplied free of charge
- electricity included
- central heating included
- welcome pack

What's Not Included
Reviews submitted by users of IrishCottagesDown.com:
Stayed at Coolnacran Cottage? Be the first to submit a review.

Not displaying correctly?
Click to view
Assistance:
The cottage is unfortunately not visible. It is up the lane directly in front of you. Nevertheless you will get an idea of the countryside it is surrounded by. Rotating the view is available by the controls just above the + symbol. Clicking on the arrows on the road enables you to move location.
Click the marker (changes to red on rollover) in the top left for map view. Please note the address provided by Google Maps in the top left corner is not always accurate.
Have fun and we hope you enjoy your holiday ...
Contact the owner by phone:
Evelyn Robb
Phone:
uk
+ intl
Website: click here
Property listed here since: July 2008
Like our site?
Please support us by informing owner that you found their dwelling on IrishCottagesDown.com. Thank you!
This Form: The contents of this form will be sent direct by email to the advertiser and will only to be used to enquire about booking this property.
IrishCottagesDown also keeps an archive copy as a back-up for advertisers. You can reference our privacy statement for more information.